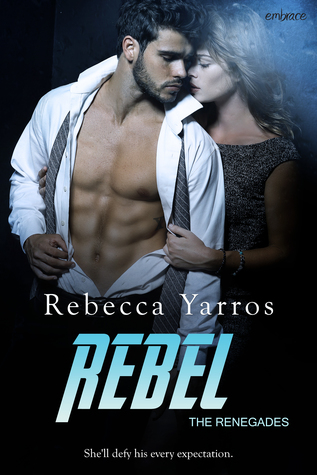 Synopsis:
She's Penna Carstairs.
The Renegade they call Rebel.
FMX-treme Magazine's sexiest female athlete of the year.
There's no rule in extreme sports she hasn't broken,
No gender barrier she hasn't demolished.
She's the woman I met in a bar in Vegas.
The woman I illegally BASE jumped for.
The woman I spent one insane, incredible night with.
But now I'm screwed.
Or rather…not screwed.
Because the woman I can't get out of my head is the one woman I can never touch again.
I'm Dr. Cruz Delgado—the youngest professor on this campus,
And Penelope Carstairs just walked into my class.
My Review:
5 out of 5 stars
Wow, what a ride! I'm honestly afraid I'm not even going to be able to do this book justice with my words. Rebel has just jumped to one of my top reads of the year and is hands down my favorite book by Rebecca Yarros ever. I wasn't sure what I was expecting going into this book, but I was not at all disappointed with the story I read.
Penna and Cruz are just…everything! The connection and chemistry between these two was off the charts amazing. Cruz is going to the top of my favorite book boyfriend list. It's going to be really hard to knock him down. I don't think I've ever swooned so hard while reading a book before. Cruz said the most beautiful, heart-warming things to Penna. I lost count of how many times I highlighted throughout the book. I loved his loyalty and dedication. He did whatever was necessary to reach his end goal. Penna has also jumped to the top of my favorite female character list. I loved everything about her. She is sassy, strong, independent, and goes after what she wants no matter what.
This book had me on the edge of my seat almost the entire time I was reading it. There was so much anticipation about how certain things would turn out. I loved the suspense, the build up, and the twists that I didn't see coming. It made for an amazing read.
Questions were answered about things that happened in the previous books and it all came together wonderfully. I laughed, I was angry, and I cried. This story was everything you could hope for in a Renegade book and more.
*I received a copy of this book from the publisher via Netgalley in exchange for an honest review.