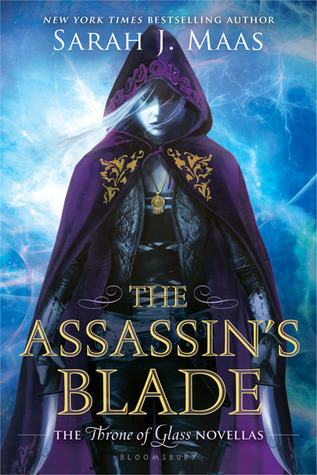 Synopsis:
Celaena Sardothien is Adarlan's most feared assassin. As part of the Assassin's Guild, her allegiance is to her master, Arobynn Hamel, yet Celaena listens to no one and trusts only her fellow killer-for-hire, Sam. In these action-packed novellas – together in one edition for the first time – Celaena embarks on five daring missions. They take her from remote islands to hostile deserts, where she fights to liberate slaves and seeks to avenge the tyrannous. But she is acting against Arobynn's orders and could suffer an unimaginable punishment for such treachery. Will Celaena ever be truly free? Explore the dark underworld of this kick-ass heroine to find out.
My Review:
3.5 out of 5 stars
I decided to try this series because the hype surrounding it is insane. I started out with Throne of Glass but only got a couple chapters into it when I was swamped with other things and then had to take it back to the library before I could read any more from it. After talking to some book friends though, most of them said it'd be better if I read The Assassin's Blade first.

I'm so glad I decided to read these little short stories before going on with the series. I think I have a better understanding of things now since I had a couple questions from what little I did read of Throne of Glass. I understand the characters a little better now. Celaena got on my nerves at times with her selfishness and materialistic tendencies. Also, her disregard to people trying to warn her about things bothered me.. Perhaps things might have turned out differently if she had listened, you know? But that's not how the story went lol. I did enjoy her character though for the most part. The author did a really good job of getting me invested in the characters. I had so many mixed emotions while reading this book. I would start out liking a character and then end up hating them. I absolutely loved Sam though and am so very sad about what happened to him. That gutted me.

The writing style was easy to follow along with and read through so it really keeps you interested in the story and wanting to know how everything would turn out. I still have a couple questions about things that happened but hopefully those will be answered in the next books. I'm looking forward to continuing with this series and going along with Celaena on her journey.