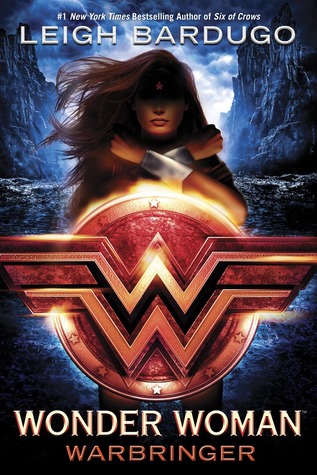 Synopsis:
Daughter of immortals.
Princess Diana longs to prove herself to her legendary warrior sisters. But when the opportunity finally comes, she throws away her chance at glory and breaks Amazon law—risking exile—to save a mortal. Diana will soon learn that she has rescued no ordinary girl, and that with this single brave act, she may have doomed the world.
Daughter of death.
Alia Keralis just wanted to escape her overprotective brother with a semester at sea. She doesn't know she is being hunted by people who think her very existence could spark a world war. When a bomb detonates aboard her ship, Alia is rescued by a mysterious girl of extraordinary strength and forced to confront a horrible truth: Alia is a Warbringer—a direct descendant of the infamous Helen of Troy, fated to bring about an age of bloodshed and misery.
Together.
Two girls will face an army of enemies—mortal and divine—determined to either destroy or possess the Warbringer. Tested beyond the bounds of their abilities, Diana and Alia must find a way to unleash hidden strengths and forge an unlikely alliance. Because if they have any hope of saving both their worlds, they will have to stand side by side against the tide of war.

My Review:
5 out of 5 stars
Okay. So. Just wow! This was my first book by this author and I will most definitely be going back to read her other books because this one was amazing!
I'm not really very much into superheroes and I've never had an interest in Wonder Woman at all, but this book was insanely hyped so I decided to check it out and actually ended up winning it in a giveaway! I read this book in a buddy read with a few other ladies and it was incredibly hard not to read beyond our set chapters per day. I just had to know what was going to happen next. I was hooked from the very beginning. The action starts immediately and doesn't stop until the end. I enjoyed getting to know Diana and I loved the descriptions of her island Themyscira. I do wish we had gotten to know Diana's sisters a little better though. It was really funny sometimes to see Diana's reactions to things from the mortal world. It offered a nice dose of humor in between all the serious moments in the book.
I enjoyed Alia's character as well. Since Alia needed so much protection, it was hard to know who you could trust. I had my suspicious about different people throughout the book, but that betrayal plot twist got me like a smack to the face. I wasn't expecting that at all! I loved Alia's relationship with Nim. Their friendship was really inspiring and shows you that you can find someone out there that will accept you just the way you are, no matter what. Theo was enjoyable as well and brought out a lot of laughs.
I don't want to give away any spoilers so I'll just leave it at that. This book took me on a wonderful ride. I was on the edge of my seat in heart-pounding suspense, I laughed, I cried, I was angry and shocked, and some scenes even gave me chills. Diana has earned my respect and interest so I will definitely take time to learn more about her character. As for the author? I can see why people call her Queen Bardugo. This book was EPIC!
Book Links:
Goodreads
Amazon
Barnes & Noble
BAM
Kobo