Contemporary Romance Reading Challenge

Ok, so here are the challenge details and rules….
Reading Challenge Details:
Runs January 1, 2018 – December 31, 2018 (books read prior to 1/1/2018 do not count towards the challenge). You can join anytime you want, though the sign up linky will close Nov. 15, 2018. 

The goal is to read as many Contemporary Romance books as you'd like. See the different levels below and pick the one that works best for you. You can move up a level as often as you'd like but no moving down. Remember, the idea is to challenge yourself.
Books that qualify for this challenge can be young adult, new adult, or adult. Books can be M/F, M/M, or F/F. Books must be a work of fiction (sorry, nonfiction does not qualify for this challenge).
Romances with the following elements do not qualify for this reading challenge: paranormal, historical, time-travel, fantasy, science fiction, or mystery/suspense/thriller.
Books can be any format (print, ebook, audio).
Novellas that are 100 pages in length (give or take), as well as full-length novels, will count for this reading challenge.
Re-reads and crossovers from other reading challenges are allowed.
Use the hashtag #ContRom2018 when posting your reviews/updates/re-caps/monthly topics on social media.
To join this challenge, grab the 2018 Contemporary Romance Reading Challenge button below and post this reading challenge on your blog to track your progress. Please include a link back to this sign-up post so others can join the reading challenge too. This will be your "update post" when doing the monthly link up.
You do not have to be a book blogger to participate; you can track your progress on Goodreads, LibraryThing, BookLikes, etc., so as long as you have a dedicated shelf for the 2018 Contemporary Romance Reading Challenge (your designated "update post" for the monthly link up) and your profile is not private. The point of linking up is to have a place where people can see what you're reading.
Levels:
1st Base: read 1 – 5 books
2nd Base: read 6 – 10 books
3rd Base: read 11 – 15 books
Home Run: read 16 – 20 books
Grand Slam: read 21+ books
I have decided that I am going to go with the Grand Slam level!
I will track my progress here:
1.
---
Craving for Cozies 
Cozy mysteries, also referred to simply as "cozies", are a sub-genre of crime fiction mysteries in which sex and violence are downplayed or treated humorously, and the crime and detection take place in a small, socially intimate community. The crime-solver is an amateur sleuth, usually but not always a woman, who is thrust into the aftermath of the murder. The protagonist frequently has an occupation or hobby that brings appealing information to the reader.
The challenge runs from January 1, 2018, and ends December 31, 2018
Levels
Peckish – 1 – 10 Cozy Mysteries
Famished – 11 – 30 Cozy Mysteries
Yearning – 31 – 50 Cozy Mysteries
Starving  – 51 – 75 Cozy Mysteries
Ravenous – 76 – 100 Cozy Mysteries
Voracious – 101 – 125 Cozy Mysteries
Completely Satiated – 126 – 150 Cozy Mysteries
Overindulged – 151 – 200 Cozy Mysteries
Pigged Out – 201 or more Cozy Mysteries
I am going with the Famished level (11 to 30 cozy mysteries)
---
Finishing the Series Challenge 
This challenge is focused on finally finishing those series that you've started but not yet completed.  We participated in a similar challenge in 2016 hosted by Bea's Book Nook, but we couldn't find one for 2017.  So we decided we would host our own version for 2018!
Guidelines:
While we're pretty lax about how you wish to set up this challenge for yourself, we do have a few guidelines to follow.
The challenge will run from January 1st, 2018 to December 31st, 2018.  Books must be read during this time frame to count.  Sign up is open from now until December 1st, 2018, so you may join even just for the last month of the year.
Series can be already completed as well as still ongoing.  For ongoing series, the goal is to catch up to the most recent book published.  For example, I'm hoping to catch up on the Winston Brothers series by Penny Reid, but I know there will still be another book coming in 2019 before that series is considered complete.  I would just need to read all the books published before the end of 2018 to qualify it as completed for this challenge.  So assuming the release schedule remains the same, that would include Dr. Strangebeard but not Beard Necessities.
We don't care if you have only 1 book or 10 books to read in order to finish your series, as long as you've started the series before 2018 (ie read at least one book in the series), it counts.  Re-reads are not required.
Any format and length of book counts – print, ebook, audio, ARC, etc.
Series can be any length (even if it's just a Duet).
Crossovers from other challenges are totally acceptable!
Reviews are not required, but highly encouraged.
How to Play:
Declare your intentions to participate in this challenge somewhere on the internet!!  You do not need to be a blogger to participate, there are many ways to declare.  You could write a blog post, create a reading challenge page, create a Goodreads shelf containing series you hope to finish, post about it on Facebook, Twitter, Instagram, etc.
Some things you could include (but that aren't required):

A link to this page so that others may find us and join the fun as well (feel free to download the button at the top to use in your posts).
A list of series you hope to read for this challenge.  You could even get fancy and list the length of the series, or the books you've already read, etc.
The level you are aiming for.

Sign up for the challenge using the link up below, and link directly to where you've declared your intentions (ie to the specific blog post, the goodreads shelf, the facebook post, etc).
We will be posting monthly link ups for you to add links to your reviews or any wrap-up/overview posts you wish to share.
Go forth and READ!!  And have fun!!
Use the hashtag #FinishingTheSeries2018 on any social media to keep up with other participants!
---
Here are the series that I would like to complete/get caught up on in 2018.
I am going to be a B-List Series Finisher (5-8 series)

1. Stephanie Plum series by Janet Evanovich
Books One through Twenty-Two   ✓
Turbo Twenty-Three   ✓
Hardcore Twenty-Four
2. The Hawkweed Prophecy duet by Irina Brignull
The Hawkweed Prophecy  ✓
The Hawkweed Legacy
3. Throne of Glass series by Sarah J Maas
The Assassin's Blade  ✓
Throne of Glass
Crown of Midnight
Heir of Fire
Queen of Shadows
Empire of Storms
Tower of Dawn
4. Cajun Country Mysteries by Ellen Byron
Plantation Shudders  ✓
Body on the Bayou
A Cajun Christmas Killing
5. Tobi Tobias Mysteries by Laura Bradford
Death in Advertising  ✓
30 Second Death  ✓
And Death Goes To….
6. Gibson Boys series by Adriana Locke
Crank  ✓
Craft
(others not yet announced)
7. Frostblood Saga by Elly Blake
Frostblood  ✓
Fireblood
Nightblood
8. Lunar Chronicles by Marissa Meyer
Cinder  (I've crossed this one out but I've only finished part of it, so I need to finish this one also)
Scarlet
Cress
Winter
Be sure to go to the Celebrity Readers blog to find out more info about this challenge and to sign up if you're interested!
---
Beat the Backlist Challenge
This reading challenge is focused on knocking off titles that have been on your TBR for a while, or even ones that get pushed aside for new releases. While we LOVE new releases, we also want to show some of those older titles love too.
YOU set your own reading goal. YOU pick the books. YOU read at your own pace.
The challenge will run from January 1, 2018 to December 31, 2018. You have an ENTIRE YEAR to complete your goal!
Books must be released prior to 2018 to count for this challenge. Although we love new releases too, this isn't the challenge for them.
I have decided to make a goal of reading 30 books from my backlist.
I am on team Book Bards!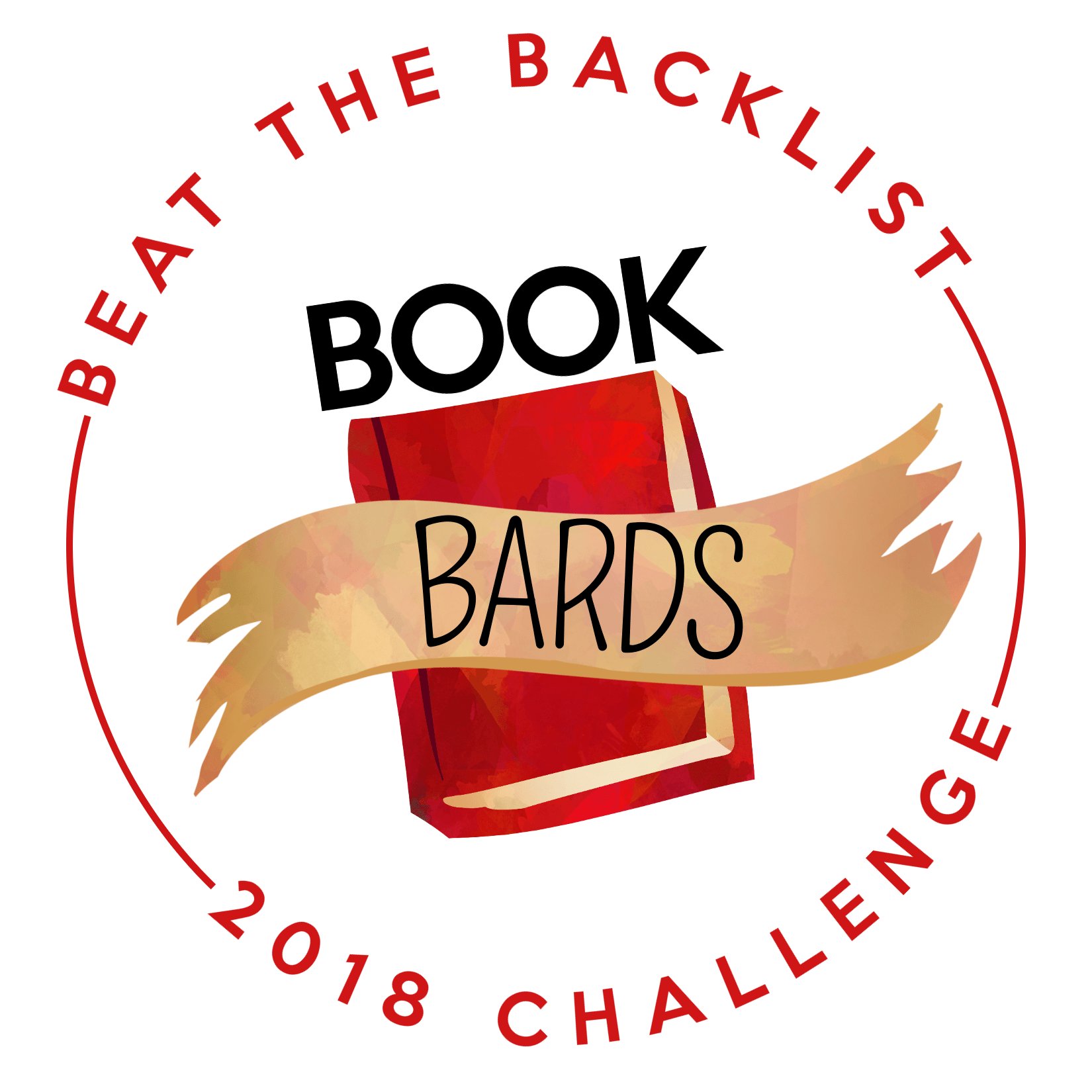 I'll track my progress here:
1. Turbo Twenty-Three by Janet Evanovich
2. Dirty Red by Tarryn Fisher
3. Thief by Tarryn Fisher
4. The Lost Hero by Rick Riordan
5. Mud Vein by Tarryn Fisher