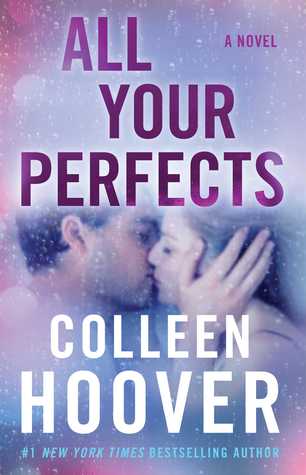 Synopsis:
Colleen Hoover delivers a tour de force novel about a troubled marriage and the one old forgotten promise that might be able to save it.
Quinn and Graham's perfect love is threatened by their imperfect marriage. The memories, mistakes, and secrets that they have built up over the years are now tearing them apart. The one thing that could save them might also be the very thing that pushes their marriage beyond the point of repair.
All Your Perfects is a profound novel about a damaged couple whose potential future hinges on promises made in the past. This is a heartbreaking page-turner that asks: Can a resounding love with a perfect beginning survive a lifetime between two imperfect people?
My Review:
5 out of 5 stars
I finished this book two days ago and I'm still not sure the words I'm writing for my review will be enough to give this book the credit it deserves. That's usually how I end up feeling with each book that I read by Colleen Hoover. I just feel like I don't do any of her words justice.

I felt so many emotions while reading this book. I was sad, I was angry, I was happy, I laughed, I cried, I was frustrated. There were moments when Quinn and Graham annoyed me or disappointed me by their actions or decisions they made. But oh my gosh… I could relate to Quinn and Graham so much. I could feel Quinn's devastating pain. I've been there. I could relate as she pushed Graham away. I've been there. I could relate to Graham as he tried to reach out to Quinn, to help her not shut him out so much. I've been there for the pain and devastation, month after month. My outcome was different than Quinn's, but I've felt her pain nonetheless. My husband and I have had moments in our marriage where we wondered if this was it.. if this was this was the final straw that was going to break us. I think that's what made this book so emotional. This book deals with real issues that real couples face.

Colleen has a real talent and gift with words. She pulls you into the world she is creating, makes you fall for the characters, and keeps you interested until the very end. I read this book in one sitting because I just couldn't put it down, even though there were times I was crying my eyes out. I just read through my tears because I needed to know that Quinn and Graham were going to make it. I rooted for them so hard.

Whether you are married or not, give this book a chance. It's definitely worth it. 
Author Links:
Website
Facebook
Instagram
Twitter
Book Links:
Amazon
Barnes & Noble
Goodreads