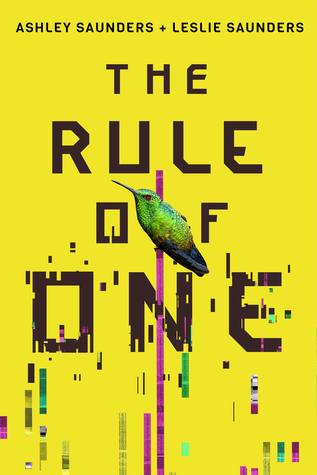 Synopsis:
In their world, telling the truth has become the most dangerous crime of all.
In the near-future United States, a one-child policy is ruthlessly enforced. Everyone follows the Rule of One. But Ava Goodwin, daughter of the head of the Texas Family Planning Division, has a secret—one her mother died to keep and her father has helped to hide for her entire life.
She has an identical twin sister, Mira.
For eighteen years Ava and Mira have lived as one, trading places day after day, maintaining an interchangeable existence down to the most telling detail. But when their charade is exposed, their worst nightmare begins. Now they must leave behind the father they love and fight for their lives.
Branded as traitors, hunted as fugitives, and pushed to discover just how far they'll go in order to stay alive, Ava and Mira rush headlong into a terrifying unknown.
My Review:
3 out of 5 stars

The premise of a One Child Policy and the twins, Ava and Mira, living as one person is what grabbed my interest in this book.

I won't go into a lot of detail to avoid spoilers, but this was a pretty good read. The story switches POVs between Ava and Mira. However, there were times that I wasn't able to distinguish between them. I had to recheck to see whose POV I was reading. The pacing was slow at times and then moved quickly at others. There was enough action and suspense to keep me interested in the story though. As Ava and Mira try to make it to their destination, there are threats all over the place, so they are always on edge and alert. This made me alert as well, wondering what was going to happen next.

There were a few twists in the story that I wasn't expecting. As the book continued I flew threw the story. I guess I must not have been paying close enough attention, because I wasn't aware that this book was going to be part of a series. This book ends in a major cliffhanger, so that threw me off and left me a little disappointed.

I'm looking forward to seeing where the story goes next though.

*I received a copy of this book from the publisher in exchange for an honest review.
Book Links:
Goodreads
Amazon
Barnes and Noble
Books-a-Million