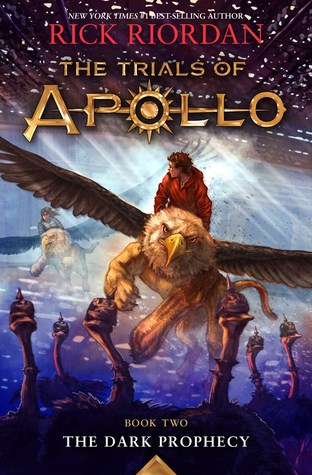 Synopsis
Zeus has punished his son Apollo–god of the sun, music, archery, poetry, and more–by casting him down to earth in the form of a gawky, acne-covered sixteen-year-old mortal named Lester. The only way Apollo can reclaim his rightful place on Mount Olympus is by restoring several Oracles that have gone dark. What is affecting the Oracles, and how can Apollo/Lester do anything about them without his powers?
After experiencing a series of dangerous–and frankly, humiliating–trials at Camp Half-Blood, Lester must now leave the relative safety of the demigod training ground and embark on a hair-raising journey across North America. Fortunately, what he lacks in godly graces he's gaining in new friendships–with heroes who will be very familiar to fans of the Percy Jackson and the Olympians and Heroes of Olympus series. Come along for what promises to be a harrowing, hilarious, and haiku-filled ride …
My Review
5 out of 5 stars

In true Riordan fashion, this book took me on another wild ride through the journeys and trials of Apollo. (See what I did there? ;))
Apollo amazes me with what he is able to do as a mortal without his Godly powers. Even though he has had some help along the way, he has been through a lot that should have killed him. I'm glad that Meg was in this book and stuck by him, but I'm still a little wary of her and where her loyalties lie. I'm also glad to have gotten more time with Leo and Calypso. I miss them so much from the Heroes of Olympus series.
This book was laced with the usual humor that we find in these stories, which is a nice break from all of the serious moments. I even cried a couple times.
That ending had me like, "WHAT?!" I turned the page expecting to find more of the story. I'll just say that I'm thrilled with who showed up at the end and the hints at who we will see in the next book.
Book Links
Amazon
Barnes & Noble
Book Depository
Goodreads